Steak and  Mug Cake Day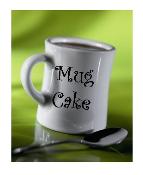 A trick I tried but didn't get a chance to do it till I was done with P2 was the Mug Cake and Steak Day.
Many hcger's have experimented with the later when on P2 and strangely enough experienced great releases even though it doesn't seem to make sense. One thing I have learned when doing these release tricks is you need to be very strict on protocol or clean eating on the following days or the release will be short lived.
The How to:
Lunch: 100 grams of sirloin
Dinner: 100 grams of sirloin + Mac Mug Cake (recipe below)
Don't forget to drink all of your water!
The recipe I preferred –

Mug Cake
1/2 oz Mac nuts ( ground)
1 tbsp coco powder
2 pkt stevia
3 tbsp heavy cream
1 tbsp coconut oil melted
And 1 egg
Mix it together and cook for about 60 sec.
Another Variation –
1/2 oz. of macadamia nuts (or 6 whole nuts), ground into a flour consistency
1/2 Tbl. dark cocoa
1/2 Tbl. cocoa
1-1/2 Tbl. xylitol
2 packets of Splenda for coffee, vanilla flavor (in the coffee aisle)(optional)
1 egg
3 Tbl. heavy cream
1 Tbl. coconut oil
1 capful of s/f flavored syrup, Davinci or Torani (optional)
Fat-free Reddy Whip (topping, optional)
In a coffee mug, combine ground mac nuts, cocoas, xylitol, and splenda. Add one egg and mix well with a fork. Add cream and syrup and stir. Last, add coconut oil. If it clumps, break it up with a fork.
Microwave on high for 90 seconds. Some people had to microwave up to 2 more minutes. Let cool for a few minutes.
Top with fat-free Reddy Whip or any whipped cream around 10 calories per serving.
Healthy Veggie Recipe
This one is Quick & Easy!
One of the questions I get asked quite a bit is –
What do I eat now?
This is a dish that is so good I actually crave it!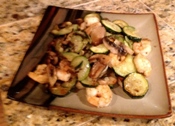 Pictured here is a combination of –
Zucchini, Mushrooms and Shrimp
Sauteed in 2 tablespoons of Coconut Oil
Add Minced Garlic, Onion Powder, Sea Salt and ground pepper to taste
I spray the skillet or Wok with a non stick spray like Pam before adding the oil, vegetables and shrimp over medium heat.
Once the oil has mixed through out the mixture I add the seasoning.
Just as the veggies are beginning to brown I remove from the heat
This recipe is so very Simple yet  So very YUMMY.
There are so many different vegetable varieties that you could add or swap to this basic recipe. Instead of onion powder you could add finely chopped onion instead. I have never been a onion lover so it is a miracle that I even like adding the onion powder.
Depending on the how you are going about your releasing journey this dish can be a great Phase 3 recipe to enjoy or possibly even P2
Want to know more on the benefits on Coconut Oil?
Two websites Links Below  have some cool info if you would like to know more info on the Veggie Benefits    – 

How to Make MCT Oil Mayo and Ranch Dressing
Make a  Mayonnaise and a Ranch dressing using MCT Oil. Courtesy of the infamous Delmem. A wonderfully healthy mayo and ranch dressing  you can use in P2, P3 and to just plain enjoy a yummy healthy mayo or dressing.
Recipe
Egg at room temp, heat coffee cup with hot water, then dump and dry… sep egg, put yolk in warmed cup – with power whisk or mixer SLOWLY add MCT oil, a little drizzle at a time while whisking… after 1-2 minutes & adding approx 2-3 TBSP of MCT oil bit by bit, you should notice the consistency change and start to thicken up… from there you can add options of vinegar, splash of buttermilk, squirt of lemon juice, then add salt and pepper (that's the mayo) – then you simply add onion & garlic powder to taste for the ranch dressing.
As you whisk you can add more MCT oil, which (if timing is correct) will thicken up the mixture even more… (if thick you can use it for dressing AND good for tuna/chicken/egg salad… thin it still works as salad dressing if you get the seasonings the way you like them)
Check Out Amazon for a Great MCT Oil Selections!