I Saw a Version of My Portobello Mushroom Pizza Recipe on Dr. Oz.
It makes my day when I can enjoy something yummy that is also good for me!
I enjoy seeing recipes, tricks, tips and alike that I have incorporated into my life end up on the Dr. OZ show. Not that I agree and or do everything I see on the show. But some recipes, uses for lemons, apple cider vinegar etc., the list is long…. When I know I have been using the same suggestions during my weight loss and now maintaining journey it validates that what I have included in my lifestyle is a good thing!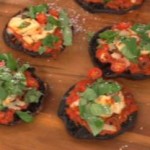 Check out this great Dr. OZ segment!
Portobello Mushroom Pizza
Ingredients
Large portobello mushrooms (stem off)
2 tbsp marinara sauce per slice (Like it saucy? you can add a smudge more;)
Basil (or Italian blend seasoning)
Spinach and or other veggies of choice
Grilled chicken or any other healthy meat you prefer (example shrimp)
Part-skim mozzarella cheese (or feta if you prefer)
Directions
1. Preheat oven to 375 degrees.
2. Place the slices of Portobello mushrooms on a lined sheet and bake for 5 minutes or until tender.
3. Remove from the oven and top them with marinara sauce and as much basil, spinach, grilled chicken (or other healthy meat) and part-skim mozzarella cheese (or feta) as you'd like to each slice.
4. Place the slices back into the oven for 15-18 minutes.
**Note: Because there are so many great vegetable toppings that are wonderful additions for fiber and antioxidant value you can consider red, yellow, orange or green bell pepper, Arugula, jalapeno peppers, tomatoes etc. Just about any low calorie veggie you would like to use as a pizza topping. But the more weight on the Portobello will determine if your pizza can he handheld or eaten with a fork.
Of course depending on the amount of toppings you choose to add approx. calories 75. Compare that to a thick crust personal sized pizza that is 760 calories.