Healthy Veggie Recipe
This one is Quick & Easy!
One of the questions I get asked quite a bit is –
What do I eat now?
This is a dish that is so good I actually crave it!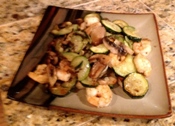 Pictured here is a combination of –
Zucchini, Mushrooms and Shrimp
Sauteed in 2 tablespoons of Coconut Oil
Add Minced Garlic, Onion Powder, Sea Salt and ground pepper to taste
I spray the skillet or Wok with a non stick spray like Pam before adding the oil, vegetables and shrimp over medium heat.
Once the oil has mixed through out the mixture I add the seasoning.
Just as the veggies are beginning to brown I remove from the heat
This recipe is so very Simple yet  So very YUMMY.
There are so many different vegetable varieties that you could add or swap to this basic recipe. Instead of onion powder you could add finely chopped onion instead. I have never been a onion lover so it is a miracle that I even like adding the onion powder.
Depending on the how you are going about your releasing journey this dish can be a great Phase 3 recipe to enjoy or possibly even P2
Want to know more on the benefits on Coconut Oil?
Two websites Links Below  have some cool info if you would like to know more info on the Veggie Benefits    –