Buy HCG Online or By Phone & Pay with Your Credit Card
My Favorite Online HCG Resource ReliableRx​ Pharmacy Announces they Accept Credit Card Payments!
We are pleased to inform you that we are now accepting payments online through VISA.
You can now go online and make payment for your with VISA.
Alternatively, you can also call ReliableRx​ Pharmacy and make payment over phone with your VISA or Mastercard.
For any query you can call ReliableRx​ Pharmacy or send  an email at info@reliablerxpharmacy.com
Please let them know  loseit4ever.com referred you

You can call ReliableRx​ Pharmacy :
+1(213)291-0788
TollFree: +1(888)505-3609 between 9.00 AM to 5.00 PM as per PST.
BUY NOW
Do I Need a HCG Clinic?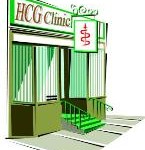 I have been asked many times,"Did you have a Doctor's Supervision"?
My Answer:
I did not go to a Clinic or Doctor. The clinics that are doing the protocol seem to be quite pricy and many people that have asked me questions in the past that have gone to clinics tell me the clinics also want to sell them anything from appetite suppressants to meal replacements and supplements. I had a friend that went to a clinic before she knew that I had done HCG.
Not only were they selling her the meal replacements but no one at the clinic had done the protocol themselves. The Doctor was overweight and when she would ask simple questions that anyone who had read the original manuscript would know answers to they were clueless. But of course they were more than happy to take her money.
I'm sure somewhere there has got to be a clinic that is above board. There is one in my town that another friend of mine helped create a testimonial video for. He said just listening to the patients stories made him a believer that the protocol really works. He said, "you could just see the happiness in the patients' faces. They were so happy to have their life back".
The only thing I don't "get" is I was told that the doctor is obese.
Actually I think I do know why. I can't tell you how many times people say they are serious and what to change but they really aren't ready yet. They don't want the food choices narrowed down even if hunger won't be a factor. Food is comfort for many people and they may want to keep that for now. It won't be until they are not comfortable in their situation.
I had another friend that even though she would tell her husband he was eating unhealthy. He stubbornly kept the food habit he enjoyed. It wasn't till he went to the emergency room and was diagnosed with almost a complete blockage to his heart that he considered changing his ways. He was basically FORCED to change; it was either that or DIE.
Now let's get back to what I did instead of going to a clinic;
My brother mentioned that maybe I should check out you tube for info on a diet his girlfriend had done.
I watched all kinds of vlogs that HCGers had posted and they were stressing the fact that you have to read pound & inches.
I ordered the HCG online and while I waited for it to arrive I read Dr Simeons' Pounds & Inches

manuscript over and over. Plus watched the vlogs and posted questions to the HCGers on youtube and other forums.
Please note that since there are some youtube videos that just want to capitalize on the "craze" use your discretion. Watch the people that have been around a long time like delmen and mamaclok and other people (there are a lot of great ones) that are on the protocol and going about their lives. I think the "staged" videos uploaded by companies are a turn off.
I ordered the rest of the supplies I would need as a kit. The kit was more than if I had gotten the items on my own but after I had the one kit I knew exactly what I would need for future rounds and then bought my supplies through Amazon etc.
Please note: If you have a medical condition that you are being treated for only you know based on your situation if you should pursue this option at all.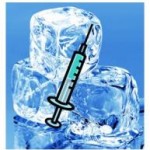 How to Store HCG Before and After Mixing

I Love when you ask questions instead of me only telling you what I did or know!
I think it helps everyone Ten fold when I am asked a question. 
You see the question and  answer which helps to put the information in perspective. 
QUESTION:
How to  Store Before and After Mixing      
I really, really appreciate your mixing instructions and they are so easy to follow. My only question is – with 5000 iu mixed for a 40 day round – do you fill the syringe daily as needed OR do you prefill 40 syringes and refrigerate? Am I correct in assuming that you only want to freeze it if you want it to last beyond the 40 days? I want to do it correctly and make sure that the last dose of hcg is as potent as the first dose.
What did you do?
Also, what is the best way to store the extra two vials of hcg until I need it for my second and third round? (I ordered 3 vials of 5000 iu from reliable).
ANSWER:
When doing a round I prefer to fill the syringe each day. The rest of the mixed HCG is stored in the mixing vial in the area of your refrigerator that will stay the most consistent in temperature. For Example; don't put it in the door of your fridge since the temp will change because of people opening and closing the door.
The other 2 vials that remain unmixed until you are ready for another round.
I prefer to store in the refrigerator (though not mandatory).
Freezing is done when you need to save a batch that has already been mixed.
Really your best bet is once you mix HCG for a round Stay Committed and use what you mixed till it is gone and you have successfully completed your round.
BUT is life throws you some crazy curve and you just have to postpone your round and don't want what you mixed wasted the alternative is to freeze your mixed HCG
Another thing to note when freezing already mixed HCG.
Someone in the HCG Community that truly cares about people getting great results on protocol went as far as testing HCG to figure out potency strength after freezing so a person could measure accordingly prior to freezing the loaded syringes.
Channel name Delmen on youtube is a wonderful resource for recipes, how to get increased releases and to help you get overall good solid understanding about the protocol and why it works so well. Along with why different elements of the plan are so vital to your success.
Here is the low down so you can store successfully;
Frozen/Thawed Trial
HCG can potentially lose close to 40% of its potency'
Pre-measure syringes to freeze, leave an air pocket for expansion and freezes needles pointing upward.
If you use 125 IU fresh, would want to load syringes to 200 IU before freezing. (200 – 40% = 120 IU)
HCG – What is the Right DOSE ?
HCG –  Question of the Day
This is a really great question and there are different  dose amounts.
Charts and Lists aside I have found it is all about
Finding the dose "Sweet Spot"
QUESTION:
I'm currently going to a "clinic" and with your help – plan on ordering from ReliableRX and Amazon and doing this myself. Although I'm having success at the "clinic" (lost 10 lbs. the first week) – they really do push the appetite suppressants and other unnecessary products. I'll have to continue to go until I get my HCG delivery – but with your guidance – I know that I can do this on my own and save ALOT of money.
My question is – do you change your dose based on your weight or how your hunger is? What dose did you start with and did you continue the same dosage throughout all of your phases? Also – did you inject 6 days and skip one as outlined in the original protocol? I'm currently on 125 – five days a week – skip two – and feel kind of hungry.
ANSWER:
Congrats on such great results, you are doing awesome!
If you are just one week into it sometimes it takes at least that for the hcg to get at a good level. I remember my first week. I was concerned that I was going to be the one oddball that hcg wouldn't work the same on as the people I was watching on youtube. Then it was Friday late afternoon and I suddenly realized that I wasn't hungry and I had forgot to eat the P2 food I brought for lunch. I thought, "Oh this is what they are talking about"?
I did dose at about the same. I would fill to just past the "20 and not get to the "25″. How is that for being scientific-LOL
One funny thing about the HCG dose.
Once you find your "sweet spot" you can tell because hunger isn't an issue. But here is the tricky part. Till you find the "sweet spot" if you don't dose enough that could cause hunger but if you dose too much that could cause hunger. So if you at anytime decide to adjust do it ever so slightly till "bing" you find the spot! My dose amount stayed consistent pretty much, only backed off near the end but ever so slightly. During my rounds I would only skip a dose one day and of course when TOM arrived.
HCG RX Mixing Instructions for Injections
I had done a Video showing a HCG being mixed
but  thought it would help to post the 10 easy steps along with pictures 
Supplies
Supply List
Alcohol Prep Pads  – Alcohol Prep Pads
Bac Water – 1 Bottle Bacteriostatic Sterile Water for Injection, 30ml USP
Mixing Vial – 1 – Sterile Empty Vial 10ml
Mixing Syringe – 3ML SYRINGE/NEEDLE 25 Gauge
Diabetic syringes , .5cc, 30 gauge, 5/16″ needle – Easy Touch Insulin Syringes
You will need enough to use one per day
RX HCG
My favorite "GO TO" for ordering –
HCG comes in different brand names – I have used Hucog, Corion, and Noverall
10 Easy Step by Step HCG Mixing Instructions:
1 – Make sure you are working on a sterile surface and do not touch your needle back to any surface after you start, to keep it sterile
2 – Remove the plastic tab lid off of the Bacteriostatic water (30 ml container with the pink lid) and off the HCG (you will see powder or what looks like a small white tablet in the bottom of the very small HCG vial).
3 – Then clean the tops of the sterile vial (sterile vial has a shiny green metal lid with a rubber stopper in the center), the bacteriostatic water and the HCG with an alcohol wipe.
4 – Pull up the plunger on your large mixing syringe to 1 ml.  Then put the needle into the bacteriostatic water and inject the air into the water.  Then immediately pull out 1 ml of water.  (It works best if you put the bottle upside down, with the needle underneath the bottle and pull the water out).
5 – Inject that water into the vial of HCG slowly and then withdraw 1 ml of air from the hCG vial, being careful not to draw out any of the liquid.
6 – Swirl HCG vial gently DO NOT SHAKE to completely reconstitute the hCG, with out shaking.  This avoids adding too many air bubbles.
7 – Draw out the liquid HCG, using your mixing syringe again.  Hold the hCG vial upside down and needle underneath the HCG, with just barely the tip of the needle into the bottle, so that you can get out all the HCG.
8 – Then, inject the 1 ml of liquid HCG into your sterile mixing vial.
9 – Pull out 3 ml of bacteriostatic water 3 times for a total of 9 ml of Bac water added to the 1 ml of HCG in the mixing vial  (use the  method of the bottle upside down and your needle underneath, when you draw out the water.)
10 – Now that the HCG is mixed it must be kept refrigerated. Store in a safe area of the fridge where the cold temperature will be most consistent
I prefer to load the syringe just past the "20" mark but less that "25" That seems to be my "sweet spot" . You may need to adjust depending on if you experience hunger etc.
I have always purchased the 5000 iu which will mix for a 40 day round. If you want to freeze after mixing you can as long as you load the individual syringes then freeze.
Note  – There is another mixing method that uses less Bac water. I tried that mixing method but when I went back to the total of 10ml was more satisfied.
Every body is different so I am just letting you know my personal experience.
Starting HCG
Like many  great people out there I have been experiencing quite the crazy year. Situations, changes and losses that can weigh emotionally heavy on a person's heart and mind.
So after a lot of thought and soul searching I have decided for many reasons to do a round.
I have not gained horribly and actually my clothes fit but not as comfortable as I like them to. I made one cardinal sin with maintenance…avoided the scale for too long. During the turbulent time of this years beginning I simply didn't want to "deal".
Then the over thinking of " if I go back on HCG will I be letting those I have been helping down"?
With that mind conversation  I finally remembered that other HCGers that I know and respect at different times have decided to do another round and I didn't have negative judgement on them.If anything I welcomed them back with open arms encouragement!
So now with all the song lyrics that are going through my mind that motivate me to start fresh I am excited about this!
Foo fighter's "Walk" or Aerosmith's "Back in the Saddle" and all that 😉
So my plan on my blog is to share different info that I come across that I know helps me stay on track.
I will also do a you tube vlog very soon…FUN Times!!
Even with this decision I know that I have maintained better than at any other time in my "dieting career". I call it that because I started dieting when I was in elementary school. Not one single other method has kept the weight off like this. I began my HCG journey  in January 201o. It is now 2012  and would I admit it is debatable whether I really would need to do a round based on how much I want to lose.
But I have decided I want Pounds & Inches manuscript to be sure I was weighing the right amount.
I already saw a video and read research that will help motivate me to stay on track and I will share that with you too.
My goal with this website was to help people  by sharing my experiences and what I learn.
So my plan is to help me and in turn I hope to help you!
How Do I Get Started With HCG ?
QUESTION:
Hi, I ran into your page through youtube, been looking to start on hcg I want to loose 30 pounds
but don't know where to start if you can please tell me how many vials to buy
and the list of the things I need to buy to start on hcg pleaseANSWER:
Steps I took when I decided to start my HCG journey
Though this was not the first online pharmacy I used it is the one I like the best

Because the hcg is not expensive but shipping and handling is the same whether
you get one vial or 3 I opted to get 3. I always got 3 whenever I ordered.
When not mixed they have a long shelf life plus i keep mine in the fridge even when not mixed.
I always ordered the 5000iu.
The brands of HCG I have gotten in the past based on availability are Hucog, Corion, and Novarel.
Next for my first round I ordered a kit that had all the mixing supplies and syringes from HCGbasics.com.
Amanda that runs that website was one of the first mixing vlogs
I watched on you tube and when I ordered was good about answering my questions.
Granted later once I knew what I needed I could order the supplies online myself for less money
but for the first time it was nice to have everything I needed in one easy kit.
Sometimes peace of mind that you have the right stuff out weights the cost. The kit was approx $60
but it got me through if I remember right 3 rounds. Speaking of cost, if you are a seasoned dieter
like I have been all the different programs, supplements diet doctors etc that we have gone through
in the past in the grand scheme of things I would say my HCG journey was the most affordable.
NEXT while waiting for my hcg and supplies to arrive the MOST important thing
I did was READ the POUNDS & INCHES Manuscript over and over again.
I am not a person who loves to read BUT this is vital for a lot of reasons.
You need to truly understand why this protocol works especially when there
are so many hcg protocol want-a- be's lurking out there now.
If you do the food plan without the REAL hcg you will not get the right result
and yes you will be hungry and for good reason (starved).
Step 2 – I watched you tube to hear from other hcger on their journey and
about how to mix the hcg and recipes people had come up with.
Another word of CAUTION…From the time I started till now the environment is different on youtube.
Unfortunately when people or companies think there is a fast buck to be made they want to jump on the wagon.
Use Discernment when you watch a vlog. If it is all looking to "slick" I would move on.
Watch the people that you can tell are simply sharing their journey with you.
And if a channel looks like the vlog you are watching isn't made on the channel you are one that is another red flag.
I have had to report copy write  infringement reports a few times because someone ripped my vlog
and put it on their channel so people would go to their website and buty what they were selling. And it was probably not even real hcg

Step 3 -Get or make sure you have the tools to gauge your success.
1 – Take your measurements measure EVERY area you can. Trust me later you will be glad you did.
(a Myotape is recommended)

I know this is a tough one. I didn't take any but thankfully my brother
had snapped off some vacation shots that I hated looking at but was thankful
to have once I was in my "after stage"

Since you will do as I say and not do as I do 😉
Take from , back and both sides. Trust me later it will be worth it!
3 -scale to weigh the protein portions

$ Have a good body scale that also gives you body percentages.
below is the one I have but there are others now that you don't
This probably looks very daunting at this point but it really is simple
and so very worth it when you realize the results you are going to get
will be more than you could have ever dreamed!
I have the protocol manuscript, measuring spreadsheets, and progress sheets
all free to download. Plus links to get to the various items so that should help a bit.

P.S. speaking you youtube I know I am WAY overdue to post a vlog.
I will do my best to post one in the near future.
Till then keep me posted on all your great success and let me know if you have questions

How to Convert from Drops to HCG Injections
I really need to get better about posting more consistently. I get questions on a daily basis and need to remember if I answer them this way so many more people can benefit and be helped!


Question:
Hi!
I have recently started the HCG, however I have been using drops. I would like to convert over to the injections, but was wondering would I have to start all over with my 2 gorge days. I plan on doing 45 days, and I'm 14 days in, with a 14lb weight loss! I just expected the injections to be more costly then what they are. Just so I understand this correctly… If I plan on doing roughly 30 more days with injections taken at lets say 200ml per day…How many vials will I need to order. I am still confused about this process.
Your blog has been very informative for and answered a lot of other questions that I still had. Thanks for the inspiration and hope to hear from you soon!

My Answer:
Congrats on your great releases on this round. Since I don't know how much you want to lose to get to your goal it is tough to tell you how much to order. I prefer to buy 3 vials at a time simply because if I have to pay the shipping and handling I figure it ends up being more economical. Once you have the vials they store for quite sometime as long as they are not mixed. Once you mix is when it is only good in the fridge so you can complete your 40 day round. You also need to give time for it to arrive. If you are doing the drops and the vial came quick enough that you could transition you don't need to load. If you go off of HCG for longer than 14 days then you should load before the next round. Bare in mind I admit that I have "load-phobia". I don't know what you have been spending on drops but buying the HCG for injections and the supplies on your own is WAY less expensive than going to the high priced clinics. And a lot less than many other diet plans that people invest in but don't get near the great results. Hope this helps!

Order RX HCG!
My favorite "GO TO" for ordering –
After a brief halt in selling HCG you can order once again!
"We are are pleased to inform you that HCG is back in our online store.
We have decided that we will not make a separate page or banner for HCG. So, you can put HCG in US Brand or Generic search box and you will get it there – Thank you"
This news has just made my day!
The Online Site I Preferred to Buy My HCG from
It was brought to my attention that the online site I had purchased my 1st batch of HCG from is no longer functioning,the site was Pharmacy Escrow. After that purchase I found out that Pharmacy escrow and All Day Chemist were one in the same. I don't know this for fact but wonder if the company simply decided to have the whole thing be under the All Day Chemist name. The second purchase I made was with Reliablerxpharmacy.com. I liked their prices and YES they were reliable!

After that I did buy from All Day Chemist so I could advise based on experience if someone asked my opinion.That site was fine, I wasn't thrilled by the payment method they use but I got what I ordered with out any issue.
Below is an except of an older post of which HCG  I bought and the supplies I needed as well.
A prescription wasn't needed. I prefer to get Hucog brand or the generic version of it. I have also used Corion and it was fine too. To save on the shipping and handling I always purchased 3 at a time. And since I preferred to do 40 day rounds I would buy 5000 iu. I have the mixing breakdown on this blog for both 5000 iu and 2000 iu. But I am most familiar with the 5000 iu. The bacteriostatic water can be bought online from medical supply and even bodybuilder websites. My very first round I bought a supply "kit" hcgbasics.com that had everything to get started except for the hcg. After that because I had examples at my fingertips of what I needed I would get everything on my own.
Link to How to Mix HCG