Diet Salsa- Only 16 Calories per Serving
Great for P3 & P4
Diet Salsa – YUM!
Ingredients
2 cups finely chopped seeded peeled cucumber
1/2 cup finely chopped seeded tomato
1/4 cup chopped onion
2 Tbsp minced fresh parsley
1 jalepeno pepper, seeded and chopped
4-1/2 tsp minced fresh cilantro
1 garlic clove, minced or pressed
1/4 cup reduced-fat sour cream (optional)
1-1/2 tsp lemon juice
1-1/2 tsp lime juice
1/4 tsp ground cumin (optional)
1/4 tsp seasoned salt

Tortilla chips**When on P3 it is better to swap out the tortillas chips  for kale chips

How to Make–
In a small bowl combine
2 cups finely chopped seeded peeled cucumber
1/2 cup finely chopped seeded tomato
1/4 cup chopped onion
2 Tbsp minced fresh parsley
1 jalapeno pepper, seeded and chopped
4 1/2 tsp minced fresh cilantro
1 garlic clove, minced or pressed
In another bowl, combine the sour cream (optional)
 Lemon juice & Lime juice
Cumin (optional)
Seasoned salt or Sea salt  Pour over cucumber mixture and toss to coat.
Serve immediately with chips or use over anything you love salsa on!

Here is the BEST PART!! ….1/4 cup is only 16 calories – YAY!…..
Not as great of a "yay' -** (chips not included in calorie count)
I guess we cant have it all – lol
Healthy Protein Packed Greek Yogurt "Mayo"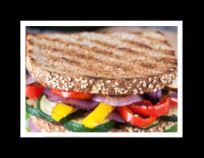 Two things I can't stand is a dry salad or a dry sandwich.
When it comes to condiments it is great when you can find a way to have a meal that is healthy and yummy!
This recipe has got you next sandwich covered…literally – LOL – Watch out Ezekiel bread you are not going to know what hit you
Greek Yogurt "Mayo" Recipe
Ingredients
1 cup plain Greek yogurt
1 tbsp. of fresh dill, chopped
1/4 cup cucumber, grated
1 small clove of garlic, finely chopped
Dash of salt (optional)
Directions
Combine all the ingredients in a bowl.
Now you've got a mayo substitute that is yummy while being SO much better for you and your weight GOAL!
Great for P3 & P4 meals

Overview
Of course you won't be using the entire cup on your sandwich so when you divide it up if a 6 oz. Fage container is 100 calories (zero fat) compare that to one Tablespoon of Mayo.
When researching for this post I noticed that Mayo brands and how they wished to list the nutritional facts differed greatly. They would list anywhere from 37 calories to 49 and on up to 90 per TB.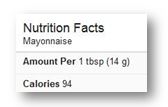 Mayo – 1 Tablespoon
I decided since all the calories in Mayo is also all fat I captured a picture which displayed the 90 cal.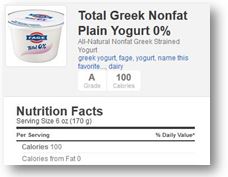 Fage Greek Yogurt – 6 oz.
Compare the mayo to the Greek yogurt nutritional value. I think you will agree it is worth trying the recipe and using it as a wonderful alternative. Plus you will be putting "good stuff" in your body for fuel.
This recipe was inspired by Biotrust and my desire to find ways to help people get to their goal and stay there FOREVER!
I really like the Biotrust protein powder. I was hesitant to try it since I liked the Jay Robb so well but once I did I was SOLD!
Healthy Veggie Recipe
This one is Quick & Easy!
One of the questions I get asked quite a bit is –
What do I eat now?
This is a dish that is so good I actually crave it!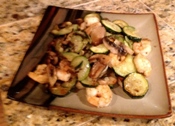 Pictured here is a combination of –
Zucchini, Mushrooms and Shrimp
Sauteed in 2 tablespoons of Coconut Oil
Add Minced Garlic, Onion Powder, Sea Salt and ground pepper to taste
I spray the skillet or Wok with a non stick spray like Pam before adding the oil, vegetables and shrimp over medium heat.
Once the oil has mixed through out the mixture I add the seasoning.
Just as the veggies are beginning to brown I remove from the heat
This recipe is so very Simple yet  So very YUMMY.
There are so many different vegetable varieties that you could add or swap to this basic recipe. Instead of onion powder you could add finely chopped onion instead. I have never been a onion lover so it is a miracle that I even like adding the onion powder.
Depending on the how you are going about your releasing journey this dish can be a great Phase 3 recipe to enjoy or possibly even P2
Want to know more on the benefits on Coconut Oil?
Two websites Links Below  have some cool info if you would like to know more info on the Veggie Benefits    – 

How to Make MCT Oil Mayo and Ranch Dressing
Make a  Mayonnaise and a Ranch dressing using MCT Oil. Courtesy of the infamous Delmem. A wonderfully healthy mayo and ranch dressing  you can use in P2, P3 and to just plain enjoy a yummy healthy mayo or dressing.
Recipe
Egg at room temp, heat coffee cup with hot water, then dump and dry… sep egg, put yolk in warmed cup – with power whisk or mixer SLOWLY add MCT oil, a little drizzle at a time while whisking… after 1-2 minutes & adding approx 2-3 TBSP of MCT oil bit by bit, you should notice the consistency change and start to thicken up… from there you can add options of vinegar, splash of buttermilk, squirt of lemon juice, then add salt and pepper (that's the mayo) – then you simply add onion & garlic powder to taste for the ranch dressing.
As you whisk you can add more MCT oil, which (if timing is correct) will thicken up the mixture even more… (if thick you can use it for dressing AND good for tuna/chicken/egg salad… thin it still works as salad dressing if you get the seasonings the way you like them)
Check Out Amazon for a Great MCT Oil Selections!

Phase 3 Roasted Vegetables Dish –
Super YUMMY- Super  SIMPLE!
So many other veggies can be added but Pictured is Zucchini and Mushrooms
Phase 3 Food question –
Hey Colleen,
I can't stress enough how much I love it, that you actually care about people who write to you…
I wanted to ask you, since I am soon going to enter phase3. And I don't have meat or eggs or fish being a vegetarian. Is it ok if I start having whole wheat pasta, or brown rice, lentils, or something and can I use olive oil for cooking, or the Pam sprays or something? Because now I'm going insane without any decent hot cooked food! I can't live on spinach soup and yoghurt as on HCG VLCD phase2…..please help….
Thanks
My Answer –
What I think you will love instead of the whole wheat pasta, or brown rice, lentils is roasted vegetables.
This is so simple to make!
I put a variety of broccoli, zucchini, mushrooms, and on occasion asparagus (though for you that veggie you may want to take a break from) and I will add red, yellow and orange bell peppers (not spicy) sometimes. Then I drizzle olive oil over the top (I still spray the platter I use with the Pam Spray to keep the vegetables from sticking and make clean up easier) add minced garlic and sprinkle with either kosher salt or sea salt. Put it in the broiler for approx 8 min. then stir around and broil for another 5 min. The tops will look grilled – YUM!
When my son sees what I'm eating he always says" you are going to eat all that?" It's SO good!
If you are not vegetarian like the sweet person who asked this question you can also add shrimp, strips of cooked chicken breast (no skin) or lean steak, even feta cheese. I prefer feta because it is better for you than basic cheese. You don't need to add much at all and when added to this dish it gives a nice tanginess to the overall flavor of the dish.
Another side note – I have tried this using MCT oil. It wasn't that it was bad but MCT doesn't like extreme temperatures so the vegetables end up being drier and the MCT oil kind of "smokes away" during the broiling process.
**If you are a Phase 2 person in the more liberal protocol that allows more vegetable selections than Dr Simeons' original protocol (I have heard of plans that people that are going to HCG clinics are doing that also include Broccoli etc.) Also you can simply swap out the olive oil for the MCT (though the mct doesn't work as well)or omit the oil and drizzle with water for added moisture. Of course no oil will definitely keep it Phase 2 friendly no matter how you slice it!
Order RX HCG!
My favorite "GO TO" for ordering –
After a brief halt in selling HCG you can order once again!
"We are are pleased to inform you that HCG is back in our online store.
We have decided that we will not make a separate page or banner for HCG. So, you can put HCG in US Brand or Generic search box and you will get it there – Thank you"
This news has just made my day!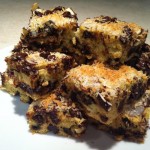 HCG P3 Almond Joy Recipe
1/2 c almond flour
1/2 c coconut flour
1/2 c Stevia baking blend
1/2 tsp salt
1/2 tsp baking soda
…4 eggs
3/4 c milk, coconut milk, or almond milk
2 tsp vanilla extract
1 c plus 1/2 c sugar free chocolate chips
1/2 c plus 1/4 c sliced almonds
1/4 c plus 1/4 c unsweetened shredded coconut
Mix dry ingredients. Whisk together wet ingredients. Mix wet and dry together with an electric mixer. Add 1 c chocolate chips, 1/2 c sliced almonds, and 1/4 c coconut. Spread into a parchment lined pan and top with remaining coconut, almonds and chocolate chips. If thick, bake at 350 for 35-40 minutes, if thinner, bake 25-30 minutes.
put these in a smaller glass baking dish, so they were a little thicker/more cake like, but still AMAZING – you could put them in a larger dish and they would be more cookie-like.
Thanks to Sammie for your awesome recipe!
This was pretty much regular mug cake x 5.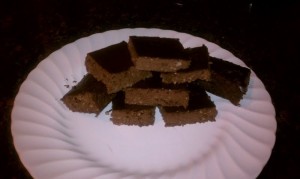 Recipe –
Ingredients:
5 oz of crushed Mac Nuts
5 whole eggs
5 tbsp unsweetened coco powder
5 tbsp coconut oil
…5 tbsp whole milk or heavy cream
1 capful of vanilla extract
10 packets of Stevia (or any other sweetener)
Bake in the oven at 450 degrees for 20 min.
Then YUM!
Thank you Victoria for sharing so we can be slim yet ENJOY wonderful treats like this!
I must warn this is like Chocolate Delight in that some people incorporate it into P2 and get great results others experience a gain or stall….Proceed at your own risk.
Recipe:
1 tsp lemon zest
…juice of one lemon
1/2 cup "powdered" Truvia* or Stevia
1 cup Coconut BUTTER (Artisana brand) or Tropical Traditions brand "Coconut Cream Concentrate"
microwave coconut butter for about one minute and stir thoroughly till well mixed
Using a magic-bullet like single serving blender, blend Truvia while shaking to make into a powdered sugar like consistency.
With a wire whisk, stir in zest, juice and Truvia or Stevia .
Incorporate the coconut butter while stirring.
Mixture will thicken rather quickly
Using a spoon or small gauge cookie dough scooper, divide out onto parchment paper into small balls.
refrigerate for a few minutes and with your hands, roll out to make smooth bite size truffles.
Where to find ingredients for this recipe