Cauliflower Fried Rice Recipe
Phase 3 Friendly , Really Healthy and Just Plain YUMMY!
After I heard that cauliflower could be used to make fried rice without using rice I was really curious.
Not just curious but how it would work but if my family would approve of the dish.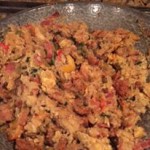 It has been said fried rice is basically taking rice and adding leftovers you already have. What type of leftovers? Vegetables and meat of course (you can exclude the meat and even the eggs if you prefer). This opens up a lot of variety when you decide to make it. I am including the standard recipe. But the picture of my last batch was made with red, yellow, and orange bell peppers, mushrooms, scallions and spinach. The meat selection was a request from my husband which for this batch not as low calorie as it could have been. The last time before this one I used shrimp which is of course low calorie but my husband asked me to try adding sausage this time around. And I also added turkey bacon. Depending on the size of the batch the amount of eggs you will use varies. My last batch I used 3.
For Christmas my daughter bought me a Cuisinart food processor. This made breaking up the cauliflower a LOT easier. Before I had the processor trying to break up the cauliflower was really tough.
I used the shredding blade and it broke up the cauliflower so it was granules like rice is. The first time I used the processor and the blade I used unfortunately broke up the cauliflower too much so the consistency was too mushy. It still tasted good but I knew it would have been better with the correct texture. My husband said he would like me to make the cauliflower fried rice every week. Those of you that are always trying to figure out what to make that will keep everyone in the family happy. This one does that. Both my kids say it tastes really good so I know I have a winner. I have made cauliflower pizza crust before but that was before the processor. The fact combined with the mistake of adding too many ingredients that were too "wet" made the pizza fall apart too much. After I try that recipe again I will let you know how it went. Both the cauliflower fried rice and cauliflower pizza are P3 friendly if the right additional ingredients are added. And it goes without saying the recipe is just plain HEALTHY without sacrificing taste. Along with the fact that the cauliflower is a good source of fiber as well.
Though standard fried rice usually has peas and carrots you are not stuck having to use carrots or peas. Both of those I prefer to not use. Carrots are high glycemic (sugar) and peas are starchy. There are so many other vegetables with a lot more benefits.
As far as oil I have used either olive oil, coconut oil or a Mediterranean blend oil. Sesame Oil is usually used but I don't have that oil in my pantry. And to be perfectly honest I simply use 3 or 4 soy sauce packets that I got from Panda Express. I am notorious for not follow a recipe precisely. But the outcome is yummy and that's what counts.
Here is the Basic Cauliflower Fried Rice Recipe
1 Small Head of Cauliflower, cut into Florets
3 Slices Bacon, Diced
2 Large Eggs
2 Scallions, Sliced Thin
3 Tbsp. Oil
Diced Meat of your choice
Veggies of your choice
1 Tbsp. Soy Sauce
1 tsp. Freshly Ground Black Pepper
1 tsp. Minced Garlic
Rice cauliflower florets in food processor.
2. Dice bacon and scallions.
3. Fry bacon until very crisp, remove and let cool.
4. Add oil to pan and start to fry the cauliflower.
5. After a few minutes, push your cauliflower to one side of the pan, adding your garlic and scallions to the empty side.
6. Add soy sauce black pepper and a slight bit of sea salt (to taste) to the "rice".
7. Mix everything together and allow it to fry for a few minutes.
8. Push all your ingredients to one side of the pan again. Add your whisked eggs and allow them to cook.
8. Add your bacon and mix everything in well, chopping the egg up to form smaller pieces.
Phase 3 Roasted Vegetables Dish –
Super YUMMY- Super SIMPLE!
So many other veggies can be added but Pictured is Zucchini and Mushrooms
Phase 3 Food Question –
Hey Colleen,
I can't stress enough how much I love it, that you actually care about people who write to you…
I wanted to ask you, since I am soon going to enter phase3. And I don't have meat or eggs or fish being a vegetarian. Is it ok if I start having whole wheat pasta, or brown rice, lentils, or something and can I use olive oil for cooking, or the Pam sprays or something? Because now I'm going insane without any decent hot cooked food! I can't live on spinach soup and yoghurt as on HCG VLCD phase2…..please help….
Thanks
My Answer –
What I think you will love instead of the whole wheat pasta, or brown rice, lentils is roasted vegetables.
This is so simple to make!
I put a variety of broccoli, zucchini, mushrooms, and on occasion asparagus (though for you that veggie you may want to take a break from) and I will add red, yellow and orange bell peppers (not spicy) sometimes. Then I drizzle olive oil over the top (I still spray the platter I use with the Pam Spray to keep the vegetables from sticking and make clean up easier) add minced garlic and sprinkle with either kosher salt or sea salt. Put it in the broiler for approx 8 min. then stir around and broil for another 5 min. The tops will look grilled – YUM!
When my son sees what I'm eating he always says" you are going to eat all that?" It's SO good!
If you are not vegetarian like the sweet person who asked this question you can also add shrimp, strips of cooked chicken breast (no skin) or lean steak, even feta cheese. I prefer feta because it is better for you than basic cheese. You don't need to add much at all and when added to this dish it gives a nice tanginess to the overall flavor of the dish.
Another side note – I have tried this using MCT oil. It wasn't that it was bad but MCT doesn't like extreme temperatures so the vegetables end up being drier and the MCT oil kind of "smokes away" during the broiling process.
**If you are a Phase 2 person in the more liberal protocol that allows more vegetable selections than Dr Simeons' original protocol (I have heard of plans that people that are going to HCG clinics are doing that also include Broccoli etc.)You can simply swap out the olive oil for the MCT (though the mct doesn't work as well)or omit the oil and drizzle with water for added moisture.
Diet Salsa- Only 16 Calories per Serving
Great for P3 & P4
Diet Salsa – YUM!
Ingredients
2 cups finely chopped seeded peeled cucumber
1/2 cup finely chopped seeded tomato
1/4 cup chopped onion
2 Tbsp minced fresh parsley
1 jalepeno pepper, seeded and chopped
4-1/2 tsp minced fresh cilantro
1 garlic clove, minced or pressed
1/4 cup reduced-fat sour cream (optional)
1-1/2 tsp lemon juice
1-1/2 tsp lime juice
1/4 tsp ground cumin (optional)
1/4 tsp seasoned salt

Tortilla chips**When on P3 it is better to swap out the tortillas chips  for kale chips

How to Make–
In a small bowl combine
2 cups finely chopped seeded peeled cucumber
1/2 cup finely chopped seeded tomato
1/4 cup chopped onion
2 Tbsp minced fresh parsley
1 jalapeno pepper, seeded and chopped
4 1/2 tsp minced fresh cilantro
1 garlic clove, minced or pressed
In another bowl, combine the sour cream (optional)
 Lemon juice & Lime juice
Cumin (optional)
Seasoned salt or Sea salt  Pour over cucumber mixture and toss to coat.
Serve immediately with chips or use over anything you love salsa on!

Here is the BEST PART!! ….1/4 cup is only 16 calories – YAY!…..
Not as great of a "yay' -** (chips not included in calorie count)
I guess we cant have it all – lol