HCG Brownies – Say What???
This was pretty much regular mug cake x 5.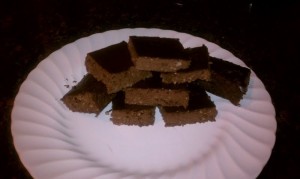 Recipe –
Ingredients:
5 oz of crushed Mac Nuts
5 whole eggs
5 tbsp unsweetened coco powder
5 tbsp coconut oil
…5 tbsp whole milk or heavy cream
1 capful of vanilla extract
10 packets of Stevia (or any other sweetener)
Bake in the oven at 450 degrees for 20 min.
Then YUM!
Thank you Victoria for sharing so we can be slim yet ENJOY wonderful treats like this!
3 Responses to HCG Brownies – Say What???