Do I HAVE to LOAD to do the HCG Protocol?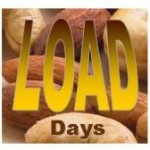 Lets Talk about the Art of Loading
When I was first learning about Dr. Simeons protocol one of the steps that sounded pretty cool was the "load days". I think anyone that is first starting can't help but think this should be fun.
Well it is not as fun as you would think, but this is why you do it.
Dr Simeons explained in Pounds & Inches
that basically you need to stock up your normal fat reserve.
It makes sense that if you will be going on a low calorie diet and you are told you should "stock up" on some fattening food. You might as well pick the foods that you might miss while you are on the protocol round. But besides that you want to make sure you add in fats that help your body want to release fat more easily.
Of course if you are going to load or as some others refer the two days as "gorge days".
You are going to see the scale numbers go up instead of down. This can be a little disconcerting to someone starting. But as soon as you are into your first week and you see that not only the load weight came right off put you are also releasing very nicely the concern of the initial quick gain is gone as quick as it came. – YAY
Now here is a little twist on the choice I made during my rounds. I was OK loading for the very first time and all went well. But when I unfortunately let my emotions get in the way of my logical mind I became Load-phobic. I didn't want to have to deal with the increase numbers on the scale, though I knew they would be short lived. I also really disliked feeling too full. I can't stand being that uncomfortable.
I figured I would rather go through a couple of "hunger days" instead of loading.
But then I got educated beyond what Dr. Simeon explained. Even though the Dr. explained well sometimes you have to hear that one other person saying it a little differently.
Because I already experienced first hand how the fat fast , for example Macadamia Nuts

and cream cheese help the body release fat. And the importance of amino acids ( Protein Shakes
).
I was taught that you can even load "clean" if that will help get past the phobia and help a person load instead of opting out.
But don't get me wrong, I still think if you are going to load if there are any foods you would like to get out of your system (cravings etc.) This is the time to do it!
All that I know to help another person get to their weight loss GOAL!
This is going to be fun! Coming in August my friend has asked me to help him with his weight loss challenge. The difference here is that he knows I used HCG but he won't be using that route. BUT he knows that I help all of you with other tricks, tips and advice so this is what he has asked me to do. We work together as well so for the month of August I will be coming in early to work so we can record a vlog together. The first week he wants to do questions and answers. After that he will do what I recommend and weigh in with results. I have told him he should do the "fruit flush" to start so i will probably do that 3 day flush with him. It is always nice to support the effort to help lay down a good foundation. I REALLY like the idea because I not only will be helping him but anyone else that will be checking in to see how it's going and learn from the Q&A. It will also help me get back in the vlogging "saddle" so to speak. Stay tuned – FUN TIMES!

Please Note – Do Not Do this Flush while on HCG
The Jay Robb Fruit Flush
The Fruit Flush 3-Day Detox is the brainchild of clinical nutritionist and fitness expert Jay Robb, and is a great alternative to other detoxification diets out there that allow mainly fluids to be taken throughout the duration of the process. Unlike juice fasting, this detox diet relies on the consumption of fruits in achieving its guaranteed health benefits, including weight loss. And since the Fruit Flush lasts for only 3 shorts days, many people who have tried their hands on detoxifying themselves found it relatively easy to stick to the diet from beginning to end.
Line of Attack
Jay Robb believes that elimination of toxins in the body can be done with the mere consumption of a proper combination of foods. The Fruit Flush 3-Day Detox Diet utilizes the substances or contents of fruits and other natural food items in cleansing the body's different systems. In addition, this detox diet enables one to efficiently lose excess weight of up to 9 pounds, according to its creator.
The nutritive content of fruits has many positive effects on the body, not just suitable for detoxification but for providing for a general wellbeing as well. Fruits are a good source of vitamins, minerals, antioxidants and fiber. They also provide quality carbohydrates – those of the low glycemic index type.
You see, not all carbohydrates are the same when it comes to their effect on the blood glucose level. The glycemic index, or GI, ranks carbohydrates based on how fast they trigger rise in the amount of sugar in the blood stream. Food sources with high glycemic index will trigger a dramatic spike, while a low glycemic index will only cause a small rise. For people who are trying to shed off excess pounds or maintain ideal weight, sticking to foods with low glycemic index is the way to go. By consuming carbohydrates with low glycemic index, one's blood glucose level becomes stable, therefore maintaining increased energy levels and preventing hunger pangs.
The 3-Day Plan
Since this detox diet is designed by a clinical nutritionist, he understands that not only is it important for people to eat well-balanced meals all the time, but also need to get rid of accumulated toxins in the body from time to time. That is why the Fruit Flush 3-Day Detox is so designed: to effectively sweep toxins out of the body in as little time as possible, enabling the return to consuming well-balanced meals just as quickly. Basically the 3 days is composed of 1 pre-flush day and followed by 2 fruit-flush days.
• Pre-Flush Day – The pre-flush day consists of drinking protein shakes and ending it with a serving of vegetable salad with chicken, turkey or fish. From 8 am to 4 pm, anyone undergoing the Fruit Flush 3-Day Detox should consume a 6-ounce glass of protein shake every 2 hours. Protein shakes are easily available at health and fitness shops, and even on the internet. Also, it's recommendable to purchase whey protein, as it is best absorbed by the body.
Where you can buy the Jay Robb Whey Protein

• Fruit-Flush Days – The fruit-flush days are on the second and last day of the Fruit Flush 3-Day Detox. From 8 am to 4 pm, one should consume a serving of fresh fruit every 2 hours. Then the day will be ended by having up to 6 cups of vegetable salad and a 6-ounce protein shake. However, on the fruit-flush days, note that no lean chicken, turkey or fish is served with the vegetable salad.
Remember to take lots of water throughout the Fruit Flush 3-Day Detox in order to hasten the elimination of toxins in the body. It is also important to drink 8-12 ounces glass of water one hour after every intake of protein shake, vegetable salad and fresh fruit servings. The following is a sample diet plan:
Pre-flush (day 1):
8:00 am – protein shake10:00 am – protein shake12:00 pm – protein shake2:00 pm – protein shake4:00 pm – protein shake6:00 pm – up to 6 cups of vegetable salad with 3-6 ounces of lean chicken, turkey or fish
Fruit-flush (day 2):
8:00 am – 1 medium-sized banana10:00 am – 2 cups strawberries12:00 pm – 1 large apple2:00 pm – 1 large mango4:00 pm – 2 small oranges6:00 pm – up to 6 cups of vegetable salad with protein shake
Fruit-flush (day 3):
8:00 am – 2 cups grapes10:00 am – 2 medium-sized kiwis12:00 pm – 1 large pear2:00 pm – 1 medium-sized banana4:00 pm – 1 large apple6:00 pm – up to 6 cups of vegetable salad with protein shake
The Good and Bad
If you think about it, the Fruit Flush 3-Day Detox is a healthier alternative to other fad diets out there also claiming to get rid of poisonous substances in the body and weight loss. Well, the truth is, this diet is obviously much healthier because you are allowed to consume fresh servings of fruits and vegetables, plus it only lasts for 3 short days. When a detox diet needs to be carried out in just a matter of few days, one will find it easier and more motivating to complete it, and enjoy the benefits as well.
However, as with any other forms of diet – for detoxification, weight loss or a combination of both – there are certain side effects involved. For the Fruit Flush 3-Day Detox, one may experience hunger and fatigue because, despite of the frequent servings of fresh fruits and protein shake, their caloric contents are still relatively few to enable anyone on the detox diet to perform regular activities as efficiently as before getting on the diet. For the same reason, one must abstain from pairing the Fruit Flush 3-Day Detox with cardio and weight training workouts. Also, the advice of a doctor or any other health professional must be sought before trying the Fruit Flush 3-Day Detox, to ensure safety.
The dressing I make for the salad –
2 Tb yellow mustard,MCT oil,ACV, and a dash of sea salt,pepper,onion powder – mixed well then shook up in a closed container with the veggie salad ( I think it is Yummy!)
My thoughts on Fruit selection –
I think one thing about the fruit it what type of fruit to have. Since we have done hcg I made the decision to only eat fruit that was allowed when on P2. Apples and strawberries. I was too concerned that bananas etc would be to high in sugar for my system. I also base it on the glycemic index. When I first read pounds and inches knowing that it was written in the 60's I thought it was interesting that Dr Simeon chose low glycemic fruits. Good call on his part 😉 I do feel really full from all the salad bulk that is taken in. So the 1st time I did it I was worried that I would gain so I was totally surprised that  I actually lost real well with it.
Thanks to Cherry V for originally sharing this flush with me.